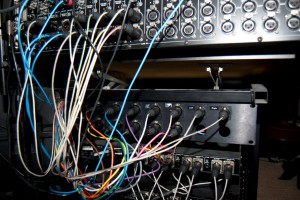 Update : increased the channels from 12 to 16 (16×2)
Made myself a nice little passive summing panel for my home rig out of parts lying around the shop. I wanted to simplify/improve my final summing stage. Pleased with the results, Sounds great. Gives me piece of mind bypassing the channel IC's & master section on my desk.
I used a simple XLR panel, Neutrik XLR mounts, Neve super conductive cable, & OHMITE 1% metal film resistors. Took all of 2 hours to wire up.
10.7k resistors on the inputs & a 220 shunt on the outputs.
After level calibration my noise-floor is at -80 & crosstalk @ -88 (via – John Hardy M1 & or API-A2D transformer pre for the make up gain. Nothing better IMHO.).
My design is based on the mixing network in NYD's drawing.
http://www.twin-x.com/groupdiy/albums/userpics/balancedmixnetwork.pdf
All you have to do is figure out how many channels you need. Pick an input impedance value. Modern balanced gear has a high input impedance usually around 20k. I picked 21.4kohm, only because I had "military grade" resistors on hand that happened to be 10.7k.
Resistors between 5k-15k should work well for most applications. 10k input resistors work well.
Now for output impedance most mic pres want to see 150ohm signal.
I recommend using a transformer based pre for the make up gain that accepts a wide range of impedance, like the hardy.
You should pick your shunt resistors on the outputs to spit out around 150ohm. Mine is 200 something. But the hardy can easily handle anything from 60-600ohm
The formula to figure out the output shunt resistor value for a 200ohm output with an input impedance of 20k =
shunt ohm resistor = (20000/n)*200/((20000/n)-200) FYI – google is a great calculator
WHERE N = NUMBER OF INPUTS